"Over The Wall…"
 Brent Carver as Molina, Michael McCormick as Marcos, Philip Hernandez as Esteban, Anthony Crivello as Valentín

 

What can I say about KOTSW? It's the only show I've gone to see four times with professional casts, and once with a very talented community ensemble. It was the first musical ever to make me cry- I was fifteen and a little more innocent/naïve than I am now. I never imagined that love could be used as a weapon, and this show was the first time I'd ever seen such a thing done. Now, unfortunately, I see it wherever I turn. Stephen King once wrote, not in regards to KOTSW, but society in general, that people kill each other with their love. KOTSW was the first time I'd ever seen that kind of horror expressed on a stage.

Over the course of my first viewing with the OBC, I fell thoroughly in love with the two principal characters, and was heartbroken when their struggles to find happiness simply proved ineffective… or too effective for their own good. One wonderful aspect of KOTSW is that it gives no clear answers, it forces the audience to think. I have read and written many analytical essays on the story, and I could read and write many more. No two people view the themes of the story in the same way: some people see a Christ figure in Molina, others see a ying-yang or even symbiotic relationship between the protagonists. There is no right answer.

This is one of those shows where the less you know going into it the better. I knew nothing my first time, and it was an experience I'll never forget. I'll just say one more thing, then let you explore the site. The original novel did not have a specific Spider Woman character; rather, Valentín suggests that Molina himself is a seductive Spider Woman "who traps men in her web." It is, in that regard, somewhat strange that this metaphor only used twice in the novel would become the story's title. I think I've figured out why: Manuel Puig, the late author of the original novel, used as Molina's first movie Cat People, about a woman who cannot get herself into any sexual situation lest she turn into a panther and kill anyone around her. While in Spain recently, I came across Cat People, and found that the title, in Spanish, was El Beso de la Mujer Pantera- Kiss of the Panther Woman. So, the novel's original title, El Beso de la Mujer Araña, would be evocative of the earlier film, and explain the titular character when she is nothing more than a passing reference in the book: love from Molina is as destructive as love from a Panther Woman, but just as powerful. Irena, he heroine of Cat People, undergoes a remarkable change when she falls in love, as does Molina. Irena's metamorphosis is dangerous and lethal, however, while Molina's growth makes him into a stronger, independent person.

Happy hunting.

Hirschfeld's sketch for the show

---
Please, Please, PLEASE sign my guestbook! It only takes a second, and it tells me a lot!!
Sign My Guestbook
View My Guestbook
You are visitor number since 10 April 2000!
Thank you!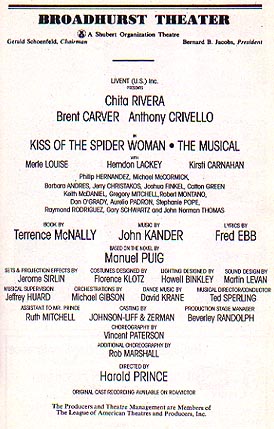 The Playbill and info sheet for the Broadway production.
"The nicest thing about feeling happy is that you never think you'll be unhappy again."